Ensuring frontier technologies benefit people and society on the agenda at Humanitech Summit
Australia's leading Summit at the intersection of technology and humanity will put the spotlight on the pressing societal issues arising from technological progress
Humanitech, an initiative of Australian Red Cross, has announced the Humanitech Summit 2022 will be held in person for the first time to convene industry leaders, academics, practitioners, and advocates around the critical issues arising from new and emerging technologies.
Supported by founding partner, Telstra Foundation, the summit will address the question: What approaches to frontier technologies do we need to ensure safety, dignity, and trust?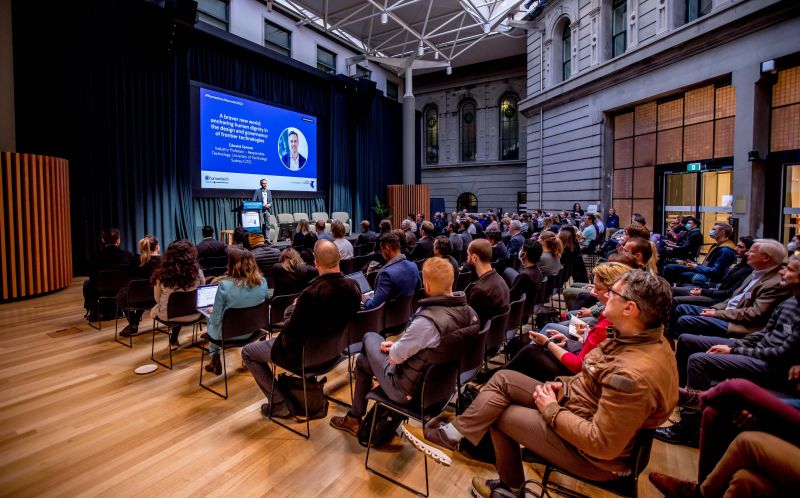 The program features industry leaders and practitioners who are re-imagining the way frontier technologies are designed and governed in Australia to realise the transformational opportunities of our time and make sure we do no harm along the way.
This includes:
Edward Santow, Industry Professor – Responsible Technology, University of Technology Sydney and Australia's former Human Rights Commissioner

Katrina Donaghy, CEO and Co-Founder, Civic Ledger

Chris Vanstone, Chief Innovation Officer, The Australian Centre for Social Innovation

Sarah Pink, Professor of Design and Emerging Technologies, Monash University

Natalie Kyriacou OAM, CEO, My Green World
Issues on the agenda include data rights and data harms, human rights safeguards for facial recognition technology, the use and misuse of automated decision making in social services, community-led innovation, and 'humanity first' approaches to frontier technologies.
Ivana Jurko, Evidence and Influence Lead of Humanitech, said that the implications of new and emerging technologies are unfolding in real time.
"We can see how frontier technologies can cause harm, create new forms of vulnerability, and entrench inequality," said Ms Jurko. "Yet, we know how transformational and empowering they can be for individuals and communities. The summit's goal is to ensure we are working together so that the benefits of these technologies are shared equitably, and their harms are addressed."
Humanitech was launched by Australian Red Cross, with the support of founding partner Telstra Foundation, to address the humanitarian and social impacts of frontier technologies. Its goal is to harness the power of technology for good by guiding the responsible, inclusive and ethical development and use of frontier technologies.
Penny Harrison, Chief of Staff at Australian Red Cross, said: "Red Cross always upholds human dignity in the face of challenges to people experiencing vulnerability. It's been powerful to apply this 'humanity first' approach through Humanitech which is helping us to see the benefits of new technologies in helping tackle complex humanitarian challenges."
Jackie Coates, Head of Telstra Foundation, said: "We must be having robust conversations today to address technology's impact on tomorrow. The Humanitech Summit is creating an important opportunity to convene leaders, researchers, humanitarians, and practitioners so that we can navigate the ethical issues arising from frontier technologies together."
Humanitech Summit 2022 will take place on Thursday 19 May 2022 at the State Library Victoria with a full day of free panel discussions, keynotes, fireside chats, and more.
More information and registration details can be found at: www.humanitechsummit.org/2022